Fantasy Football: Week 2 Starts And Sits 2021
By Pat Pitts
The first week of NFL action felt like riding a rollercoaster. Players shined, injured themselves, and gave fans a lot to think about heading into Week 2.
Managers face a tough choice this week after their waiver claims get comfortable on the bench; I am here to advise. Here's who I am starting and sitting this week.
Start
Quarterbacks
Jameis Winston @ CAR
Jameis Winston went from undrafted, to being a projected Top-12 fantasy QB against the Panthers. He threw five touchdowns against the Packers in Week 1 and his familiarity with the Panthers could help him against a mid-tier Panthers defense.
Jalen Hurts vs SF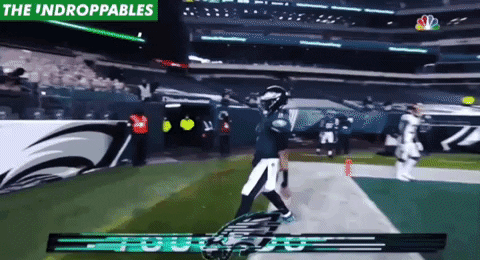 Jalen Hurts conquered the Falcons last week, throwing three touchdowns and completing 77% of his passes. The 49ers defense nearly lost against an extremely unproven Lions team, plus they have already started to get hit by the injury bug, so I would start Hurts with confidence.
Ryan Tannehill @ SEA
Tannehill and the Titans are looking to bounce back from a bad Week 1 against Arizona when they take on the Seahawks this week. The offense has too many weapons to lose two in a row and Tannehill will bounce back due to the Seahawks defense's inability to stop the air attack.
Running Backs
Chase Edmonds vs MIN
Chase Edmonds showed he can handle an RB1 workload last week in Arizona's win against the Titans. He faces the Vikings this week, who Joe Mixon carved up on his way to being the RB2 of the week. Edmonds dual threat ability launches him into the Top-24 RB discussion.
David Montgomery vs CIN
David Montgomery ran well against the Rams last week, rushing 16 times for 108 yards. He faces a Bengals defense that struggles against the run. Andy Dalton needs Montgomery to move the ball down field, which will not be a problem for the Bears RB1.
D'Andre Swift @ GB
Swift racked up 104 total yards and a touchdown in the Lions Week 1 loss to the 49ers. The Packers struggled against the Saints last week, giving me a feeling that Swift has a possibility of finishing as a Top-5 RB for the second week in a row.
Wide Receivers
Mike Evans vs ATL
Evans disappointed fantasy managers with his Week 1 performance, barely even showing up on the stat sheet. Evans faces the Falcons this week, who have a defense that is going to struggle all year long and just gave up 264 yards to Jalen Hurts through the air. Evans slots in as a Top-10 WR this week based on matchup alone.
Christian Kirk vs MIN
Christian Kirk is going to be the go-to deep threat in this Cardinals offense and is tied for the team lead in touchdowns after Week 1. Kirk acts as a great WR2 option this week against a bad Vikings secondary.
Jakobi Meyers @ NYJ
Jakobi Meyers led the Patriots in targets after Week 1, and even though he didn't find the end zone, He has an easier matchup this week against the Jets which makes him hit my radar for a big week incoming.
Tight Ends
Jared Cook vs DAL
The Dallas Cowboys allowed the most points to the Tight End position in Week 1, Jared Cook scored 11 points against the Washington Football Team, so this adds up to be one of the safest starts of the week.
Rob Gronkowski vs ATL
Brady and Gronk are playing like it's 2014. Start him while you can, especially against a Falcons defense that Tom Brady loves to carve up.
Logan Thomas vs NYG
Taylor Heinike will make his 2021 debut on Thursday night, which gives Logan Thomas the edge over the rest of the receivers. Backup QBs typically depend on the TEs more because of their gigantic size and the TE route tree. Thomas scored last week and he will most likely do the same on Thursday night.
SITS
Quarterbacks
Aaron Rodgers vs DET
Aaron Rodgers played his worst game as an NFL quarterback against the Saints. He failed to complete passes, eventually leading to Rodgers arm-punting it at certain points of the game. What was his response?
"It's only one game."
This is not the Aaron Rodgers we know, this is a Loki variant of Aaron Rodgers.
Matt Ryan @ TB
Ryan faces the defending champions on Sunday, who caused him lots of problems in 2021. Ryan failed to put up numbers against the Eagles, so it is more than likely the Bucs will eat him for Sunday dinner.
Trevor Lawrence vs DEN
Trevor Lawrence threw three touchdowns in his debut, but also tossed three interceptions. Denver has a lot more talent in their secondary than Houston does, and the Jags have to worry about Urban Meyer leaving for USC.
Running Back
Saquon Barkley @ WFT
Saquon Barkley could not lift the Giants out of the hole they dug themselves into on Sunday. He carried the ball 10 times for 26 yards and Washington's defensive line ranks as one of the league's best. He finished with three fantasy points last week and with Daniel Jones' inability to move the ball through the air, it seems likely that'll continue this week.
James Conner vs MIN
James Conner is nothing more than a handcuff to Chase Edmonds and Week 1 proved that. He's droppable at this point.
Najee Harris vs LVR
A rookie RB, a quality Raiders defensive front, and a better passing game matchup for the Steelers. Wait another week to have Harris in your lineup.
Wide Receiver
Terry McLaurin vs NYG
Ryan Fitzpatrick injured his hip last week, which brings McLaurin's value down for Week 2 (and further). Heinkie as QB1 causes a lot of uncertainty around the offense. Will they rely more on the run? Will Logan Thomas see more targets than all WRs? Don't put yourself through the headache and take a week off to evaluate the situation.
Colts WRs vs LAR
After last week, Zach Pascal seems to be the WR1 in Indy, but Michael Pittman Jr. and Parris Campbell have shown they can play at a high level. However, the WR corp lines up against Jalen Ramsey and the Rams' secondary, Carson Wentz has to worry about Aaron Donald, and it just does not spell success for the Colts WRs.
Tight End
Tyler Higbee @ IND
Tyler Higbee makes the list as the first victim of the Darius Leonard Hall of Pain. Leonard ranks as the league's best coverage linebacker, specifically shutting down TEs.
Last week, Gerald Everett caught two passes as Leonard's first victim. Higbee is not the TE to start this week, so hopefully you played the waiver wire for better options.
Robert Tonyan vs DET
If Rodgers struggles, they all struggle. Tonyan falls in line.
Blake Jarwin vs. LAC
Dalton Schultz outplayed Blake Jarwin last week. I expect a lot of the same heading into Week 2. Schultz is the TE to roster over Jarwin.